Affordable and Convenient Merchant Processing for Web Design Services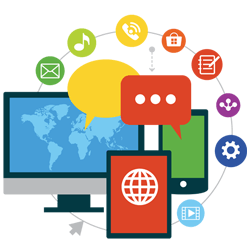 The gig economy has exploded in recent years and one of the primary drivers of this mini financial ecosystem has been the digital space. Web developers, graphic artists, copywriters, coders and more are finding it easier than ever to set up shop as a one or two-person operation thanks to convenient and affordable credit-card processing for small businesses. MSW Card allows you to seamlessly collect money from clients for your web design services, we are here to help you grow your business and help you serve as many customers as possible. Call MSW Card today at (877) 672-9494. We very much look forward to hearing from you.
Big Resources for Your Small Business
      You've worked hard to make a living doing what you love, and your customers depend on you for intuitive, engaging and beautiful websites; however, it's hard to expand your business and keep serving customers if you your receivables confined to a cash basis. Many entrepreneurs offering web design services don't feel they need something as fussy or official as credit card processing; however, having these resources in place can be a game changer in helping you collect more money and faster. Whether you're operating a small storefront, a global firm or serving clients from the comfort of your second-floor walk-up, MSW Card offers the flexibility, versatility and performance you need to get it all done.
A Full Range of Products and Solutions for Web Designers
     Web designers face a highly competitive market, which is why we provide scalable web design payment processing solutions. We can help you simplify the payment process so you can spend more time focusing on other important things – the growth of your business. MSW Card understands that your enterprise lives and dies by its ability to maximize its earnings and we are here to offer the solutions that you need, whether it's virtual credit card processing, physical terminals or anything else. Call MSW Card today at (877) 672-9494 to learn more about our customized and budget-friendly options. We are prepared to help your business grow.